Camping
You are welcome to stay overnight until the commencement of the festival for $10 per head per night, children 12 yrs & under free. Volunteers are the only exceptions.
We guarantee a camping spot for you if you have purchased a ticket, but do not reserve particular areas.
There is one big area of camping available. Gate ushers will be happy to show you the way to your site of choice.
If you have a disability, please contact Chris on 07 4958 8390 and we will do our best to cater for your needs.
Please remember youth ticket holders MUST arrive and CAMP with their guardian who must be 25 years or older. (Maximum three youths (or children) per guardian).
We are very sorry, due to council restrictions, no fires or dogs allowed.
In the unlikely event Wintermoon is cancelled, refunds will be granted. Otherwise tickets are non-refundable, but are transferable.
Tent Hire
Wintermoon hire tents are available as a four person dome tent (double), and an 8 person dome tent (family), that we provide two single foam mattresses (double), and four single foam mattresses (family) for your comfortable festival accommodation.
You are welcome to bring your own bedding ,sleeping bag ,pillow etc , or for an additional fee we can provide these for you.
Hire tents are conveniently placed near the main stage and stallholder area, so you are in the middle of the action. If you would prefer a quieter creek side location that can be arranged for you.
Double tent $100
Family tent  $200
Hospitality Tickets
Let us do the cooking for you! For a total stress-free festival we will provide 6 delicious meals served from our moonshine cafe.
Friday      – Dinner
Saturday – Breakfast, Lunch, Dinner
Sunday    – Breakfast, Lunch.
Package price $99/person.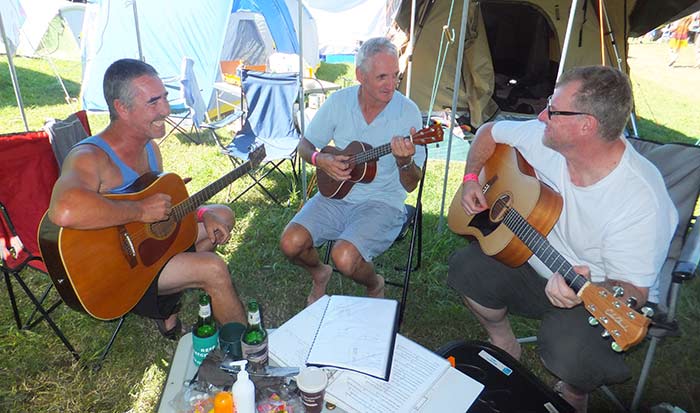 Camping areas
An overnight fee of $10 per adult per night will be requested until Thursday 27th April . ie. if you choose to stay from Sat. night 22nd until the end of the festival, an additional $50 will be charged per adult for camping fees.
Not Stoney Creek Camp will not be used for springfest.  The whole of the wintermoon site will be available for campers though.
  SpringFest Tent site 
Cars campervans etc. are allowed at the site
Hot showers and toilets on site.