Swoon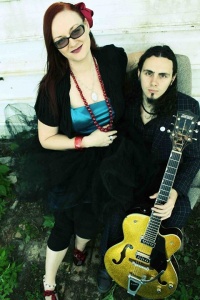 "Swoon make music that takes your heart, dances with it then puts it back beating stronger than ever"*.
A dynamic Contemporary Rockin' Folk duo who write and perform a range of material from danceable high energy Rockin' Folk, to tender ballads, humorous dittys and their brand of blues based acoustic rock. Josh plays an acoustic guitar with some effects and loops, sings backup vocals and plays the stomp box and foot tambourine.
He provides the driving rhythms, wailing solos and catchy guitar accompaniment that Angela Smith (lead vocals and percussion) lays over her strong beautiful voice and master shaker playing. Influenced by their own Kindred, Love, Led Zeppelin and Jigzag, Swoon's music is joyous, unpretentious and refreshing.